There's no one-size-fits-all solution when it comes to smart thermostats, but which ones work best with Google Home? For low voltage systems, the best option for Google Home is Google's own Nest Learning Thermostat. For high voltage, go for the Mysa Smart Thermostat. But why do we need different thermostats?

Your Heating System Matters
In North America, there is one big split between how you heat or cool your home – low voltage and high voltage thermostats. Furnaces and other central air based systems (low voltage) make up the vast majority of installations all over the continental United States and Canada, a total of 90% American and ⅔ of Canadian households. These range from natural gas, propane, oil, to wood furnaces. The alternative to this is electric heat of some sort – baseboards, in-floor, fan-forced or many others. These are called line or high voltage systems. Depending on what you have in your home makes a huge difference in what kind of thermostat you should install.

Low Voltage: Nest Learning Thermostat

A pioneer of smart thermostats, Nest was acquired by Google in 2014. While the Nest thermostats are compatible with a wide array of home assistants and protocols, the vicinity to Google development makes it a no-brainer for anyone taking the Google Home route. It's officially called the Nest Learning Thermostat, and it's built primarily to take advantage of these capabilities. You don't have to set a schedule – Nest will use geofencing and other sensing features to build your own custom schedule, and will optimize your energy use to be more efficient. Nest uses room sensors to control different heating zones, giving you more control over your comfort.
Nest also has a "Works with Nest" program that allows it to work in conjunction with Google room as a central hub for your smart home through the Nest app. Many 3rd party devices have built-in Nest app control (it's in the plans for Mysa), making it its own efficient ecosystem that in turn utilizes Google Home. There's a huge win-win with the overlap in compatibility alongside the previously mentioned smart learning features.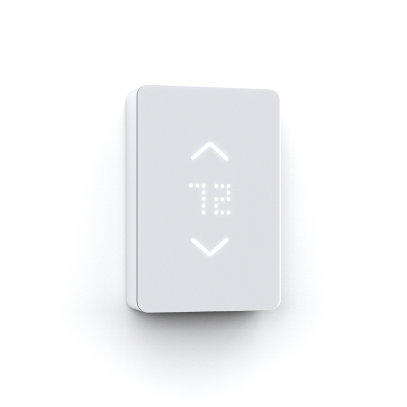 High Voltage: Mysa Smart Thermostat
The Mysa Smart Thermostat is the premiere smart option for electric heat. Before Mysa, there were no fully featured options on the market for high or line voltage heating systems. Mysa uses smart phone apps to control your electric heat from anywhere and can connect natively with Google Home, amongst other smart home systems. Advanced design and control leads to energy savings and lower utility bills – which you can keep track of with in-app energy charting. Mysa is the one true smart option for baseboard, electric heat. You can see if you're compatible here, or purchase right here.