We're all feeling the effects of change. Our daily lives have taken on a new rhythm recently and we're adjusting to new schedules brought on by social distancing. Many of us are spending more time at home due to self-isolation or quarantine. So, it's important to redefine our personal spaces to best suit our evolving needs and think about how to save energy at home.
Enjoying your home as an oasis of safety and comfort can also mean increased home energy consumption. To help you keep things cozy and stay in control of your energy costs, we're sharing some great DIY energy-saving tips and projects while spending more time at home.
1. Set Your Perfect Room Temperature to Save Home Energy
Whether working from home or self-isolating, finding that 'perfect' temperature for your space can be a bit of a moving target — too hot, too cold and everything in between. What temperature is 'just right'?
Some experts say the best temperature for comfortable productivity can be as warm as 77 ℉ (25 ℃). Our team of energy-saving champions prefers to play it a bit cooler with an average daytime thermostat setpoint of 68 ℉ (20 ℃). We love upping our at-home cozy factor while keeping costs down by indulging in cuddly sweaters and warm, comforting beverages!
Remember — saving more energy at home doesn't have to stop while you're sleeping. Lowering your thermostat setpoint before going to bed means staying in control of your energy costs effortlessly while you rest.
2. Save Energy at Home with Smart Thermostats
Your daily schedule has changed considerably – it's time to tailor your home heating schedule to maximize your comfort and savings.
If you have electric heating, installing a smart thermostat is an easy way to save money on your monthly energy bill. Smart thermostats help you manage how and when you heat your home easily and conveniently. For example, in some regions energy costs are determined by demand, making it more expensive to heat your home during peak hours. With a smart thermostat, you can take advantage of less expensive rates by scheduling preheating during off-peak hours.
Mysa Smart Thermostats are designed to give you full control of your home heating costs by helping you use energy more efficiently. Here are our team's Top Three energy-saving features for quaran-times (and beyond):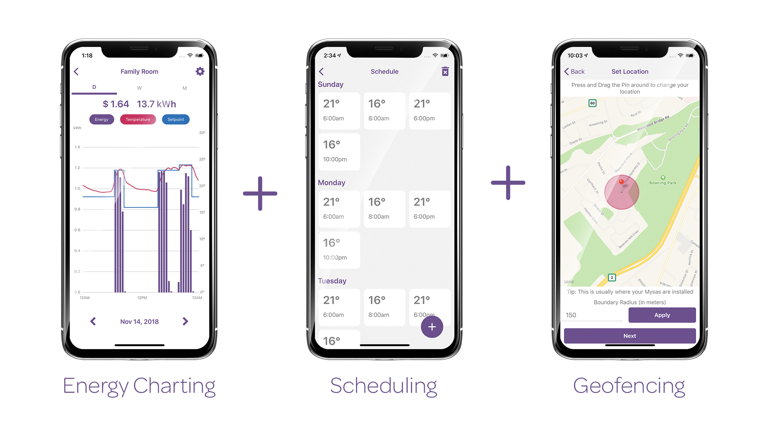 Use your Mysa Smart Thermostat to chart a course for easy home energy savings. Seeing when you use the most home energy empowers you to make adjustments as needed and set (read: crush) your energy-saving goals for your household.
Scheduling
The Mysa app helps you create the perfect heating schedule for your new needs. Thereby minimizing your energy costs while maximizing your comfort day and night. Worry-free home energy savings are three quick taps away using your smartphone or tablet.
Geofencing
Stay in control, automatically. Use the Mysa app to maintain the perfect temperature by detecting when you and your loved ones are indoors and to turn down the heat when you're taking a wellness break — like when your 'coworker' wants to go for a walk : )
Curious about how much money you could be saving by installing Mysa Smart Thermostats for your electric heating system? Read about a customer's first-hand experience with bringing home big savings on his electricity bill with Mysa!
3. Smart Lighting and Appliances Equal Easy Energy Savings
Electric heating accounts for 60% of home energy costs in Canada and northern border states in the US. However, saving energy while spending more time at home isn't just about turning down your heat. Installing energy-efficient light bulbs, smart light switches, and dimmers are simple social distancing-inspired home DIY projects that can flick the switch on easy savings.
What about those smart appliances? Today's Energy StarⓇ-rated appliances like dishwashers, washing machines, and dryers help you save more energy at home with the touch of a button. Our family of energy-efficient sleuths also recommends being strategic when running larger appliances that use the most energy. Schedule your dishwasher or laundry machine during lower kilowatt per hour times to grab those easy home energy savings.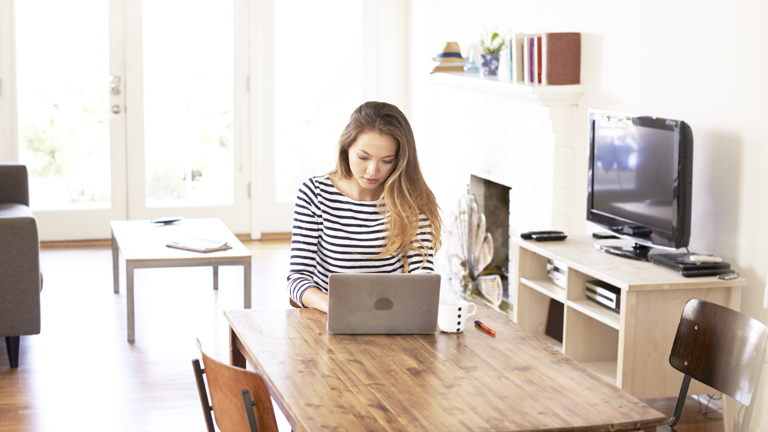 4. Save More Emotional Energy by Being a Wellness Geek
We're all figuring things out as we adjust to our new schedules. While it's easier than ever to save energy when staying home, shifting priorities can take their toll on our emotional equilibrium. It's ok to make yourself a priority by being a wellness geek!
Energy savings are always top-of-mind for our team at work and at home. But we're also doing our best to be kind to ourselves; especially in ways that don't always rely on home energy use. First things first, we're keeping an eye on our screen time. Instead, we're taking comfort in reading, hobbies, and other DIY home projects. And we're also watering ourselves as lovingly as we water our plants. Sleep is vital, deep breathing is best, and movement matters. Whether it's an at-home workout, calming yoga, or a solo stroll in the sun — find your fitness fix.
What are your tried-and-true (or awesome new) tips and tricks for saving on home energy costs while social distancing? We'd love to learn more about how you're innovating to create energy savings at home. Tell us in the comments below!