Ever get that feeling of dread about seeing your monthly energy bill, particularly in the winter? Have you considered evaluating how efficient your home is? With the right home energy audit checklist in hand, it can be a DIY project! 
Home heating accounts for a whopping 60% of the average North American home's energy costs. That's a big deal! Plus, the cost of electricity is expected to rise by 10% in 2021 and most of us staying home these days. So, it's a great time for a home energy audit, to see where your home could be costing you money. 
Yes, there are professionals who can conduct a home energy audit for you. In fact, that's how our CEO, Josh Green, started his energy-saving career! But we're here to show you how your home uses energy and where your hard-earned dollars are going every month. And we've put together a home energy audit checklist to help.
Hi. I'm Amy, and I work on the Marketing Team at Mysa in St. John's, Newfoundland and Labrador, Canada. This is the story of how my husband Shawn and I did a DIY home energy audit to learn how to spend less on home electricity. 
Spoiler alert: It's way easier than you think!
Step 1: Take a Tour of Your Home
We recently purchased an older home and noticed our monthly electricity bill was really high.  For our 2000 sq ft home, we're paying an average of $300/month equal payment plan at $0.12 per kilowatt-hour (read more about what kilowatt hours here). 
In an 80-year-old house with lots of add-ons and various HVAC systems (heat pump, electric baseboard heaters, electric in-floor heating, electric AND wood-burning fireplaces), it was hard to identify our energy-stealing culprit!
We gave our CEO (and former energy auditor extraordinaire!) Josh a tour of our house and showed him the areas we thought were problematic. We then went room by room with a thermal camera and found the areas of concern most common to most older homes like ours. Here's what Josh recommended:
Our DIY Home Energy Audit Fix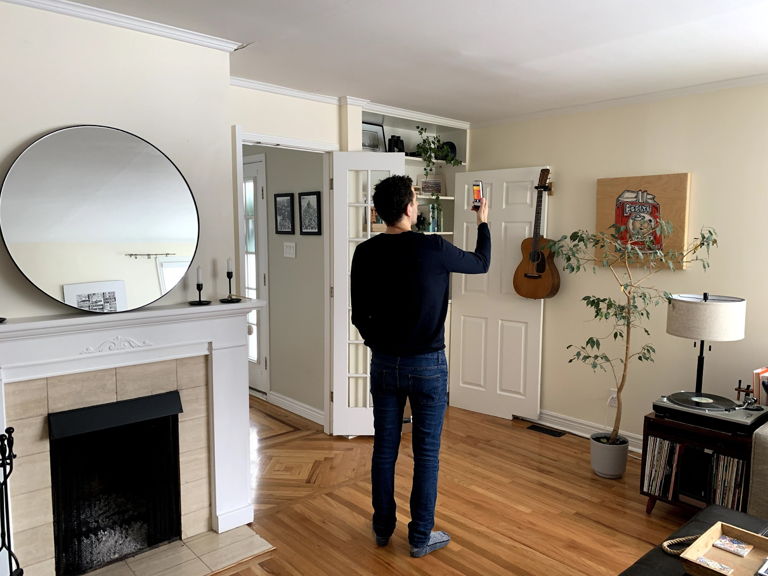 On cold or windy days, close all windows, doors, and fireplace chutes. 

Walk around your home and feel for drafts and cold spots. Be systematic and thorough! Go room-to-room starting in the basement and moving up to the attic

Buy your own easy

DIY thermal camera (like this one from Flir)

to help find leaks and drafts. It's a small investment that can have a big return!
Step 2: Investigate Leaky Doors & Windows
Weather Stripping can deteriorate and can be replaced easily and cheaply. DIY home energy audit checklist step 2: Inspect around windows and doors and look for missing or ripped stripping. Warped windows, loose door hinges, or issues with the frames can also cause issues. Some of these can be more expensive to fix, so we focused on lower-cost solutions. 
For old or drafty windows, purchase DIY plastic sealing kits or add more caulking (outside) or weather stripping (inside). Not into plastic? Cellular blinds and curtains can help trap heat and block the sun in the summer.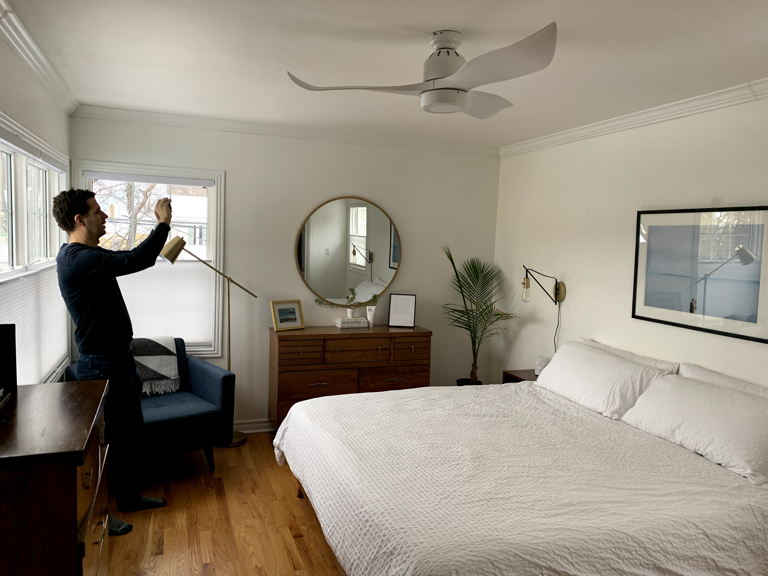 Our DIY Home Energy Audit Fix
Since it's an older house, our front door isn't sealed well because the hinges are loose. We tightened the hinges which helped seal the door and prevent leaks. Our master bedroom is an add-on from the 1970s, and the addition has settled. The windows are a bit warped, causing drafts and energy loss, so we added cellular blinds and extra weather stripping. 
Cost to fix: Weather stripping, plastic insulating kit, caulking = $75
Potential Savings: 10% of heating costs = $30 / month
Effort: Low
Step 3: Tune-up HVAC Systems & Optimize with Smart Thermostats
If you have a heat pump or ductless mini split, regular maintenance is very important to protect your investment. So, this is a smart step in our home energy audit checklist. You also don't want to overwork your systems. Heat pumps are less efficient in very cold temperatures, which is why some regions legislate that you need a secondary heat source in place, like electric baseboard heaters. 
Other forms of HVAC are inherently 'dumb' and largely inefficient; pairing them with a smart thermostat gives you insight into usage and makes sure you are using them in an energy-saving way.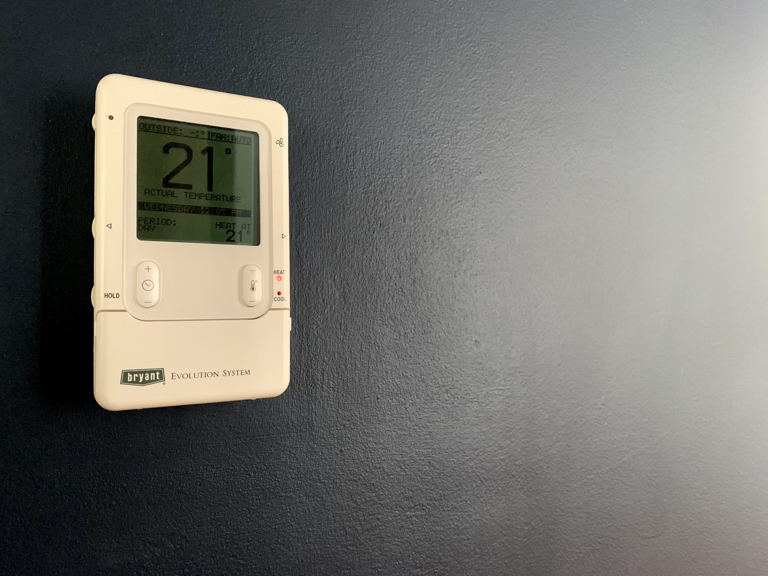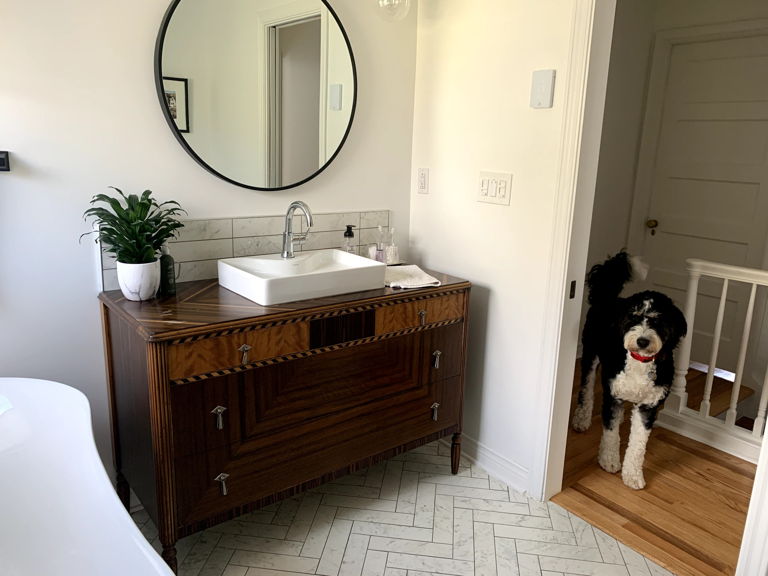 Our DIY Home Energy Audit Fix
As we have an older home with lots of add-ons, we have a few different HVAC systems. We have an electric heat pump as the main source of heating and cooling, baseboard heaters in our basement and master bedroom, plus an electric fireplace. 
Initially, we wanted to install a Nest or Ecobee for our heat pump, but they are not compatible with our Byrant system. So, we are stuck with an old, inefficient programmable thermostat (better than nothing!). For our electric heating and cooling, we switched to Mysa Smart Thermostats for the in-floor heat in our bathroom and the baseboard heaters in the rest of our house. 
Now, I may be a bit biased, but our monthly energy bill is telling a real success story! Our Mysa smart thermostats have already paid for themselves in terms of measurable energy savings, not to mention the sleek, minimalist look we wanted for our home.
Cost to fix: $120/thermostat (PRO TIP: Check for rebates in your area for extra savings!)
Potential Savings: $40/thermostat 
Step 4: Look for Exterior Wall Openings
A big part of doing a DIY home energy audit checklist is looking for energy-sucking holes going out to the exterior of your home. Openings for phone cables, internet wiring, dryer vents, etc. can cause air to leak in and your home energy to leak out!  (Also, think about those unwanted furry 'friends' who love any excuse to get into your home — yuck!)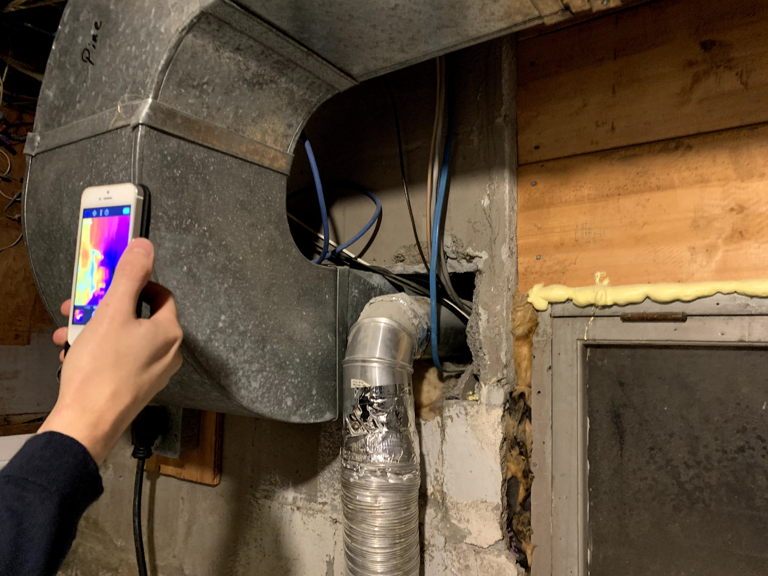 Our DIY Home Energy Audit Fix
Our house had A LOT of these holes! Years of switching cable TV providers and landlines throughout the house resulted in tonnes of small, energy-wasting spaces that we didn't even think about. We filled small gaps with silicone caulk and bigger holes with expanding polyurethane foam insulation. For extra-large holes, we used rigid foam insulation with caulking around the perimeter. 
Cost to fix: $60 for spray foam and caulking
Potential Savings: $120/year
Effort: Low

Step 5: Insulate Light Switches
Next on our home energy audit checklist: Light switches. During our audit, we found out that light switches on exterior walls can be just a thin metal plate blocking a big hole to the outside! Adding insulation around light switches is easy and cheap — you can use foam gaskets that go underneath the light switch plate. 
For light switches that are very leaky, you can look at using low-density spray foam to seal around the electrical box. Just be sure to not get any spray foam inside the electrical box itself.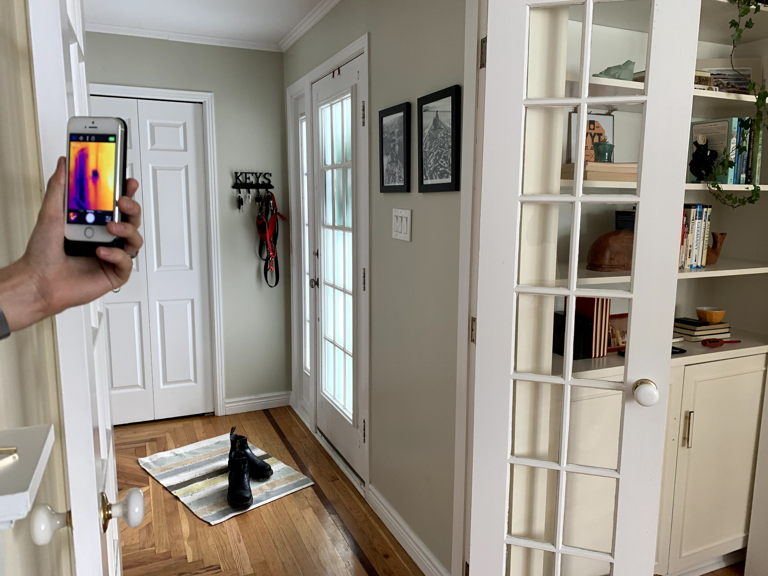 Our DIY Home Energy Audit Fix
Look at the big black hole in the pic above – that's our lightswitch! Look how much heat is escaping! (GASP!) We easily added insulation to every lightswitch — you can buy pre-cut foam gaskets for this.
Cost to fix: Foam gaskets or spray foam = $20
Potential Savings: $60/year
Effort: Low
Step 6 – Stop 'Phantom' Electricity
Time for another 'fun fact' we learned while running through our DIY home energy audit checklist. Even if a device is off, it can still be using energy if it's plugged in! A great rule of thumb to quickly identify this is if the device or item has a clock, a light, or an AC power adapter, it is using 'phantom' power.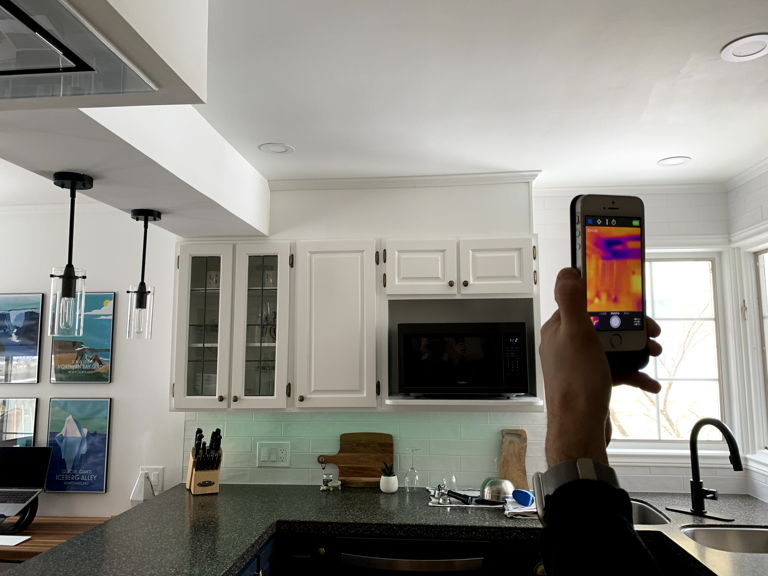 Our DIY Home Energy Audit Fix
In older homes, some rooms can turn the power off via a light switch. This is actually a trend that is coming back! Some of our rooms do this, but not all. We bought affordable (and highly-rated!) smart power outlets so we can control outlets from our phones.

Cost to fix: Smart power outlets = $35/unit
Potential Savings: Up to $120/year for your entire home's phantom power consumption 
Effort: Low
Step 7: Check Insulation in Add-Ons
Our home energy audit checklist adventures continue! Pro tip: If you live in an older home like us, chances are you have additions or small add-ons where the insulation could be lacking.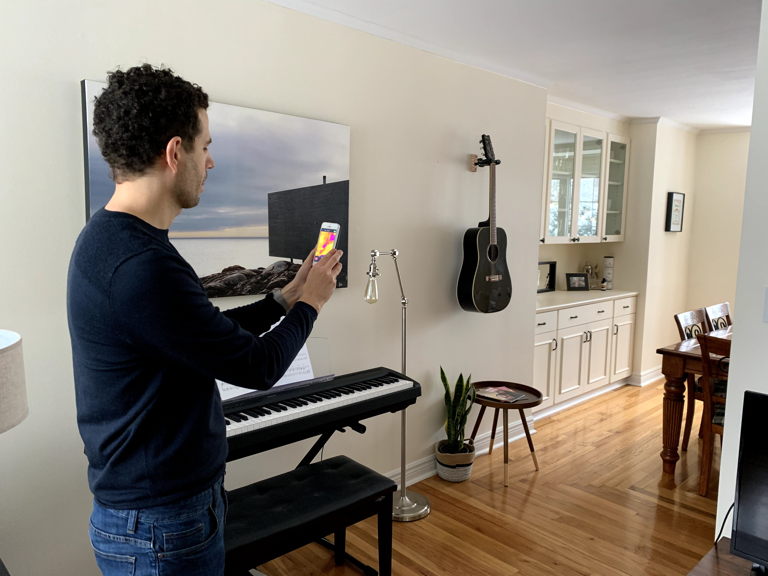 Our DIY Home Energy Audit Fix
We have a large addition on our home, as well as many small 'bump out' add-ons. In our dining room, this built-in buffet and a window seat are additions and they are always FREEZING. 
Luckily, we were able to access the base of the addition from our exterior! There was insulation but it wasn't airtight; adding spray foam or caulking around the rigid insulation provided an air seal and helped stop this space from wasting home energy!
Cost to fix: Spray foam or tubes of caulking = $10 per can 
Potential Savings: $120/year
Effort: Medium
Step 8: Insulate Basement and Crawl Spaces
Important! We learned the importance of this while doing this home energy audit checklist. Uninsulated or insufficiently insulated basements can drain a lot of heat from your home. Did you know that many utilities offer rebates to insulate these spaces?
We got down and dirty in our basement and attic crawl spaces to find out where and how we were losing home energy due to insulation that has fallen over time, or due to holes from those unwelcome furry visitors!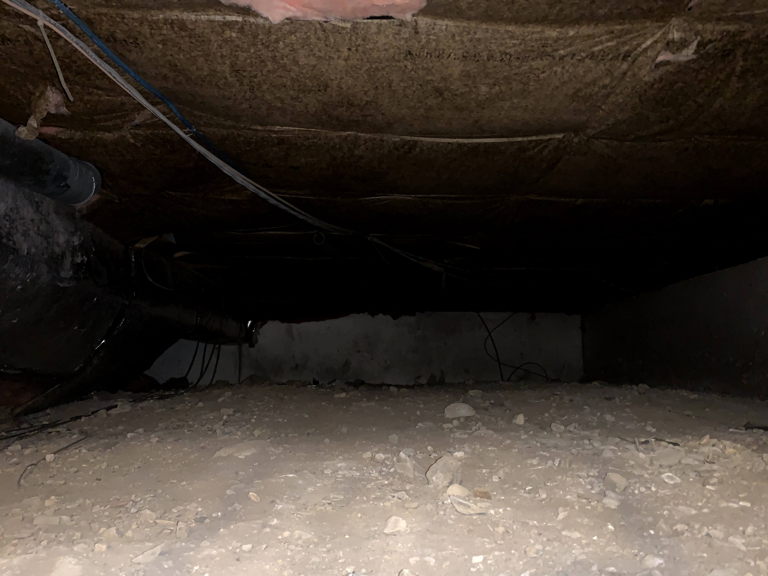 Our DIY Home Energy Audit Fix
Thankfully, most of our basement is finished, and the crawl space below the add-on was well insulated. We didn't have to do much there!
Cost to fix: Insulation (depending on space) = $300-$400 
Potential Savings: $300/year
Effort: Medium
Step 9: Inspect Ductwork 
This is another important – but not overly difficult – step in our DIY home energy audit checklist. If you have forced air, whether it is electric or oil, check for leaks in ductwork. They can develop over time where there are joins and/or taping.
If you have a ventilation system, you should also check for leaks wherever there is a ductwork connection. It's also good to look for any vents that are being blocked off or not in use. Check your airflow (you might want a professional here). Generally speaking, you don't want to close ducts yourself as you might negatively impact your airflow by mistake!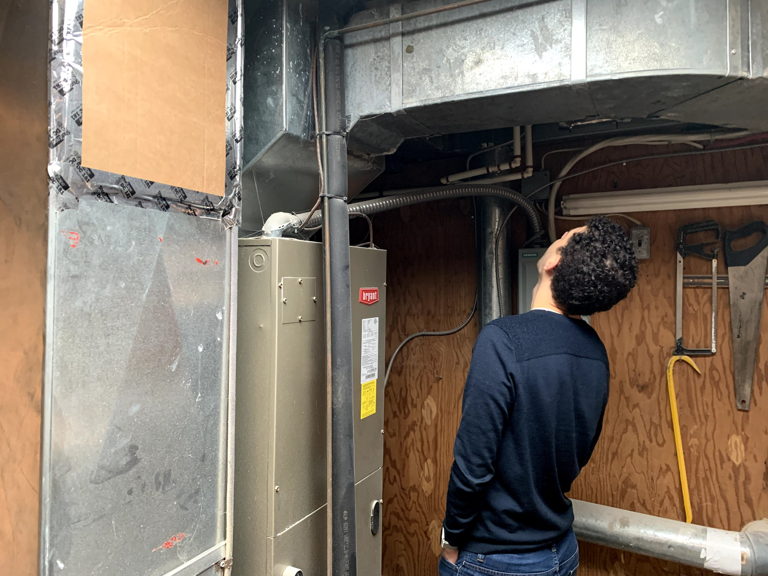 Our DIY Home Energy Audit Fix
We weren't getting good airflow to the top floor of the house, a common issue with forced air systems. Also, by the time the air gets upstairs, it tends to lose heat. We covered the air intake in our garage that was pulling up cold air (there is already one in the living room). We taped around old joins and looked at ducting areas to which we could add insulation to keep the air warm. 
Cost to fix: Air sealing tape (DO NOT use duct tape!) = $10/roll
Potential Savings: Up to $120/year (depends if your ductwork is in unconditioned/'cold' spaces) 
Effort: Medium
Step 10: Insulate and Seal Attic Hatches

The next step in our home energy audit checklist is to look up — way up! Attic hatches can be a big source of energy loss. They should be insulated and sealed to prevent cold air from coming back into the house. 
This one is kind of embarrassing, check out that gap! We discovered that the insulation sheets at the back of the hatch weren't attached. Yikes!
Step 11: Improve Attic Insulation
Welcome to the final step of our home energy audit checklist! Thanks for staying with us on our path to home energy savings.
When it comes to doing a DIY home energy audit, it's pretty common knowledge that your attic insulation should be top-notch. Attic spaces can be conditioned or unconditioned. Unconditioned means the attic is cold, the same temperature as outside. Conditioned means it's warm, and you can use the space for storage etc.
There are different types of insulation with different 'R values', like batting, blown-in cellulose, spray foam (open cell or closed cell). For example, the pink batting-style insulation shown in the third image below is rated R12.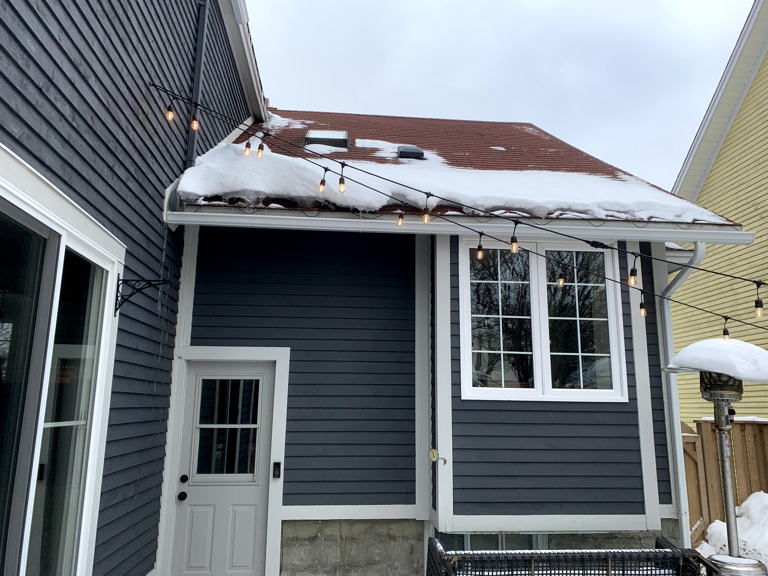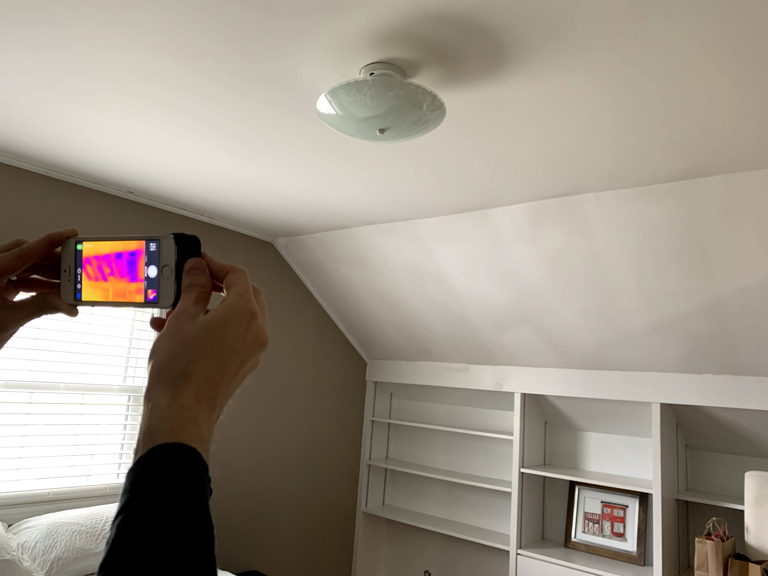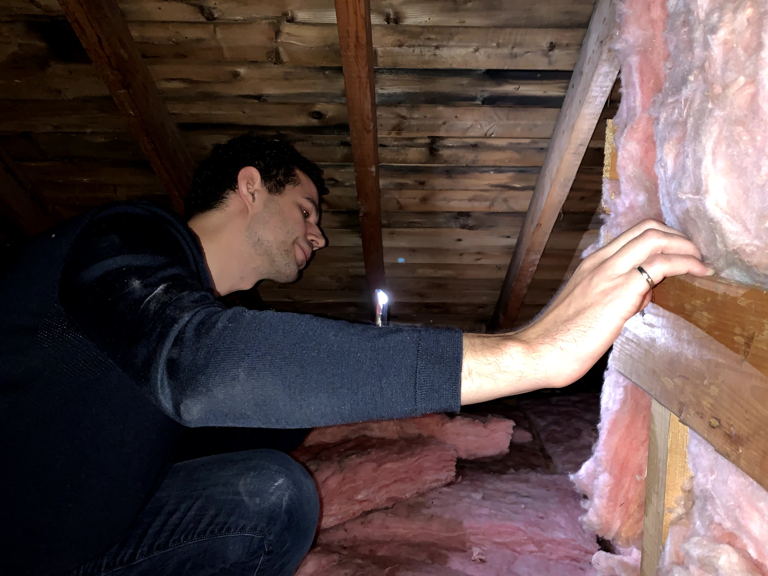 Our DIY Home Energy Audit Fix
We're not going to sugar-coat it — this was a bigger lift! 
We have two types of attic spaces; flat accessible attic and vaulted ceilings. We have vaulted ceilings in two bedrooms where we suspect our blown-in cellulose insulation had settled over time. From the outside, we had to install heat traces because of ice buildup. Hot air was rising from our living room and warming up the attic, creating the 'perfect storm' (pardon the pun) for winter ice trouble. We were leaving our heat traces on 24/7 because the winter weather here in Newfoundland and Labrador can be epic, to say the least!
With Josh's help during our DIY home energy audit checklist, we realized that our insulation was only R12 in areas of our attic. In the flat attic space, it was pretty good — batting and blown-in that filled in the gaps, making it around R30. We added another layer of insulation in the cross direction to bring it up to R50. 
Here's where things got…interesting. To access the vaulted ceiling space, we had to tear down the gyprock from the inside. The best fix here was closed-cell spray foam; we applied it directly to the roof decking. Eight inches of closed-cell spray foam brought that space up to R50. NOTE:  Because we switched from open to closed-cell, we had to close off the air vents in those spaces.
Cost to fix: Highly dependent on space/needs =$1000+
Potential Savings: $300/year
Effort: Difficult
And That's our Energy Audit Checklist!
Well, there you have it, friends — our real-life story about how we DIY'ed this home energy audit checklist! The biggest takeaway for us was the importance of knowledge when it comes to where your home heating and cooling dollars are being spent. Since every house is different, following a home energy audit checklist is the best way to fix the issues that are preventing you from spending less on home energy. 
If you're tired of dreading your monthly energy bill, remember that you have the power to take control and change it to a feeling of satisfaction (mostly) on your own! We hope our story will inspire you to do this home energy audit checklist on your own, so you can start looking forward to your energy bill. 
Do you have a DIY home energy audit story that you think could inspire other homeowners? Do we have any questions? Share in the comments below!
Stay cozy!