Your vacation home, cottage, or cabin is a special place where you can truly relax and enjoy nature's beauty. Though you may only spend a fraction of your time there, adding smart home solutions can make that time even more rewarding.
Thanks to the increased convenience and security they provide, smart home solutions make relaxing much easier. Whether you're at home or the cabin, know that your property is taken care of with products like smart home security systems, smart thermostats, and smart smoke detectors.
These smart home solutions give you full access and control of your vacation home, all from your smartphone or voice assistant. You can adjust the heating, turn on lights, and even unlock your vacation property in a few quick taps. Talk about an easy and comfortable arrival! Let's learn how to get some extra peace of mind with smart home solutions.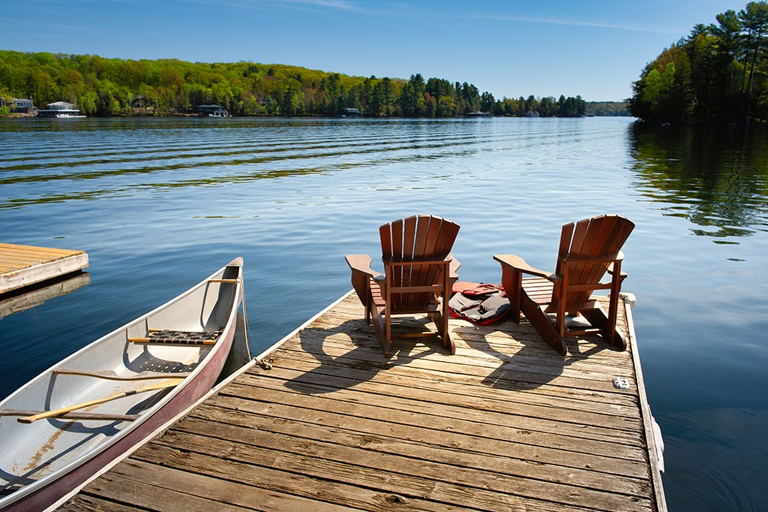 Initialize Instant Relaxation Mode
Whether you own a lakeside cottage, an urban penthouse, a mountain cabin, or a luxury vacation home, you probably have an arrival routine. Maybe you turn on the heat, start a fire, and warm the oven for cookies. Or, perhaps you open the doors wide to let in the ocean breeze and turn on a playlist to melt your stress away. Whatever it is, vacation mode really sets in after you've rushed through your to-dos.
Conveniently, smart home solutions can do all that for you. Smart thermostats allow you to turn on the heat remotely before arriving and smart lighting can literally light the way. With the right solutions installed, you can arrive at your vacation home exactly to your liking, every time. Now that's luxury!
Safeguard Your Home While You're Away With Smart Home Solutions
Another major benefit of smart home solutions for vacation home, cottage, or cabin owners is additional security. With the right technology in place, you can always keep an eye on your property, whether you're there or not. No longer worry about leaving on the lights or heating. And no longer struggle to remember if you locked the door. With smart technology, you can check those things any time, right from your phone.
Smart home solutions give you the peace of mind knowing that your property is always secure. For example, with smart security cameras installed throughout your property, you can see what's happening inside and outside, 24/7. Other smart home solutions, like lighting, can be automated to give the appearance that you're there even when you're not. And if there's ever a breach in security, in addition to sounding a traditional alarm, a smart security system will send you a notification right away.
So, let's take a look at what smart home solutions are available to help safeguard your vacation property.
Smart Locks
One smart home solution that could enhance the security of your vacation home is smart locks. Smart locks can be controlled from an app on your smartphone, on a computer, a tablet, or a voice assistant like Alexa. This enables homeowners to lock and unlock their doors remotely. So, you no longer have to worry about forgetting to lock up.
You can also schedule smart locks to automatically lock or unlock at set times. This could be handy if you arrive at the same time each weekend, or if you're expecting company. Just schedule your door to unlock when your guests are due to arrive and concentrate on your own relaxation. Some smart door locks even have geofencing technology. This will automatically lock or unlock your doors when you're within a set range of your property.
These smart home security devices not only keep your vacation home safe; they also make arriving easier. Just unlock the door from your car and forget about fumbling with your keys. Smart locks also make it possible to leave for your favourite outdoor activities with no keys at all. Your smartphone is all you need; schedule your door to unlock automatically at a certain time, or just unlock using the app. Now that's a smart home solution!
Smart locks also allow you to conveniently grant access to anyone, from anywhere. Using the smartphone app, you can manage and remotely grant access to renters, housekeeping, maintenance, and repair workers. No more exchanging keys or catering to someone else's schedule.
If this sounds like a smart home solution for you, check out options from Kwikset and August.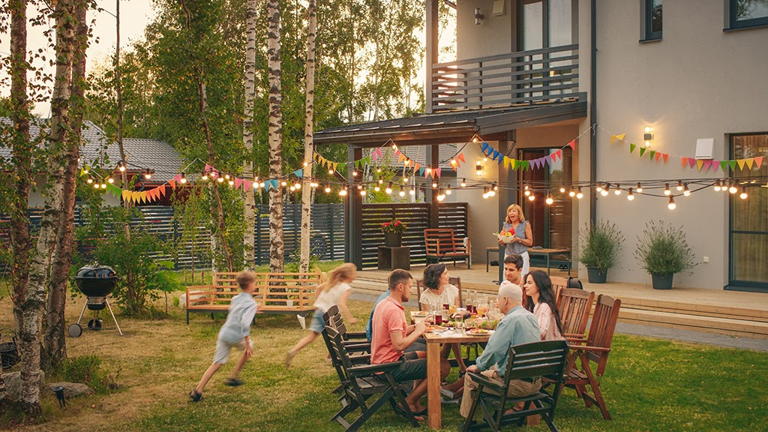 Smart Lighting
Smart light bulbs, like those by FluxSmart and Philips, or smart light switches are another great smart home solution. With smart lighting installed in your vacation home, cabin, or cottage, you can set lighting to turn on automatically and control it from your phone. This makes arriving at your place of relaxation much easier, and can also be used as a safety feature. Smart lighting is especially convenient if you come and go after dark or in bad weather, or if you own a vacation home in an area without street lights. No need to worry about finding the front door in the dark, nor do you have to always leave a light on; smart lighting has you covered.
Smart Thermostats
Since vacation homes are, by definition, a second home used for vacation, they are rarely kept at a comfortable temperature 24/7. That means you likely arrive at a warm and stuffy home, or one that's uncomfortably cold. But, that's no way to start your vacation!
Installing a smart thermostat is one of the easiest and most rewarding smart home upgrades. These smart home solutions give you complete control of your home's heating and cooling, all from an app.
If you have a normal getaway routine, use temperature scheduling to schedule your heating to reach a comfortably cozy temperature on Friday evenings after work. Mobile temperature control allows you to do the same for those impromptu trips to your vacation home. Simply use the app to adjust your thermostat as you load up the car. You focus on relaxation and a smart thermostat does all the rest!
Most smart thermostats, like those by Mysa, can also be paired with your smart home assistant. Just make sure that the smart thermostat you choose is compatible with your preferred smart home assistant. For example, maybe you prefer Amazon Alexa over Google Home, but all smart thermostats may not be compatible with Alexa.
Though incredibly convenient, smart thermostats don't stop there.
Save Energy with a Smart Thermostat
Another benefit of this smart home solution is that it also helps you save energy and lower your energy bill. A smart thermostat allows you to automate your home heating and cooling based on your actual usage with temperature scheduling. So, you no longer have to waste energy (and money) to heat or cool an empty home. Furthermore, energy charting features help you see what rooms use the most energy and pinpoint energy drains. This allows you to further optimize your temperature scheduling.
Home heating and cooling accounts for 60-70% of your home's electric bill, so there's a significant opportunity to save with smart thermostats. Those energy savings can then be put right back into your vacation home to make your next trip even more luxurious.
Also, Maintain Peace of Mind  
A smart thermostat is great at keeping your vacation home, cabin, or cottage cozy, and saving energy. However, this smart home solution also provides peace of mind by knowing that your property is always taken care of.
First and foremost, you never have to worry about leaving the heat on blast. Simply check your smartphone to see if you remembered to turn down the thermostat. If not, just take care of that right in the app.
Some companies, like Mysa, will also send you notifications if your smart thermostat loses wifi connection. This is a great feature since it's usually an indication that there has been a power outage in the area. But, there's no need to worry about your heating when power is restored. With Mysa, your temperature schedules are stored locally on the device, so those will resume as normal. Otherwise, your thermostats will return to their last setpoint before the power outage. This gives you some peace of mind until you have a chance to visit your property and reconnect your thermostat.
Other great smart thermostat features for vacation homeowners include:
Humidity ratings that you're able to monitor from your phone. This way you always know if your vacation home, cabin, or cottage is at an acceptable level.
Access sharing, which allows you to share access to your thermostat account via the app. 
Lockout mode, which can disable temperature control on the physical thermostat. This is particularly useful if you're allowing guests to stay at your home or cabin and you want to maintain control of your thermostats. 
And multiple home monitoring allows you to monitor heating in your primary residence and all other properties you own. All in the one app! 
But First, Confirm Compatibility
If a smart thermostat is a smart solution that you'd like to add to your vacation property, it's important to consider compatibility with your heating system. When assessing compatibility, the first question to answer is whether your home runs on low voltage or high voltage heating. If your property has low voltage heating, like a furnace, Nest or Ecobee are options worth considering. However, if your property has high voltage baseboard or in-floor heating, Mysa has just the product(s) for you. Mysa was specifically designed to control high (or line) voltage electric heating and has helped thousands of customers save energy.
Smart Smoke & Carbon Monoxide Detectors
Chances are, you probably have a few smoke detectors installed throughout your vacation home, cabin, or cottage. Those devices will alert you if there's a safety concern while you're vacationing. But, what about when you're back at your primary residence?
Thankfully, there's a smart home solution for that. Smart smoke detectors protect your home from danger, both when you're there and when you're not. They'll sound a traditional alarm, but will also send you an app notification, contact the local authorities, or perform any number of other alerts you may set up. Paired with smart home security cameras, you're able to see exactly what's happening remotely to make an informed decision. 
The Onelink device is a smart home solution with both smoke and carbon monoxide detection built-in. This could be a great upgrade to increase the security of your vacation home, cottage, or cabin.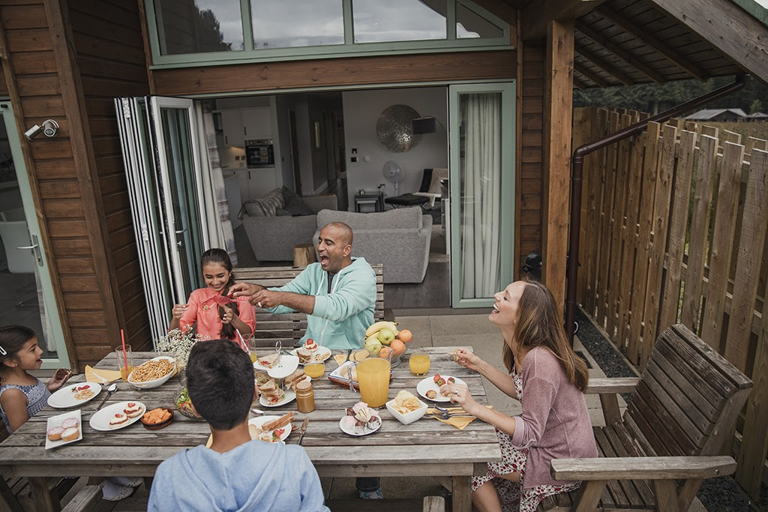 Smart Home Solutions Make Vacation Even Better
Vacation should be about relaxing and enjoying, not about the chores of everyday life. While some can't be avoided, many routine tasks can be automated and managed remotely to make your vacation time much more enjoyable.
Smart thermostats and smart lighting are among the easiest smart home solution upgrades and the reward is immediate. They'll save you time, stress, energy, and money. And all while keeping your vacation home safe and comfortable.
Do you have any smart home solutions installed in your vacation home, cottage or cabin? Are there others that we should have mentioned? Tell us in the comments section below!