We've all been there. Those moments when we realize that our personal spaces might be overdue for a little DIY home project love. Now more than ever, our home is our sanctuary, our safe haven, and it's definitely where the heart is.
We do a lot of living in our personal spaces. So, it makes sense that they should reflect our style in ways that make us feel comfortable and confident — without breaking the bank. Here are five do-it-yourself home projects that will give your home's style game a serious boost with minimal sweat equity.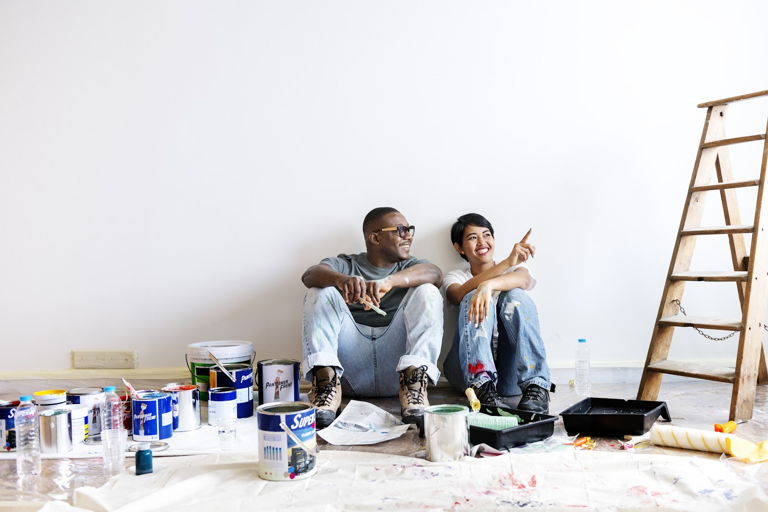 1. DIY Home Project 101: Change Your Wall Paint Colours
One of the easiest and most cost-effective home DIY projects comes in a can – literally. Selecting a new colour palette for your walls can move your space from drab to fab in a matter of minutes. Focused on creating calming comfort for your oasis of peace? Try a dreamy, muted palette of soft greys or blissed-out, natural-feeling neutrals. If atmospheric vibes are more your thing, take a walk on the dark side with moody charcoals, inky blues, deep wines, midnight forest greens, or matte black. Longing for a bit more drama? Vivid, vibrant colours bring rich pops of colour that are sure to ignite excitement and spark conversation.
Also, refreshing your walls doesn't have to be limited to single colour applications. If you're intrigued by modern motifs and feeling extra creative, try creating a geometric design using painters' tape. Use your favourite complementary colours (or go tone-on-tone) to create an eye-catching patterned accent wall. This leaves you with the perfect backdrop for your favourite art pieces and modern smart technology.
Remember, your DIY home project style story doesn't have to be told in technicolour. If your ideal home interior design vibe is sleek, minimal, and modern, we definitely feel you. Get back to interior design basics with a bright and light decorator's white that sets the stage for your style to shine simply. Whether you're all about mixing it up with colour or you prefer a serene, perfectly blank canvas, painting your home is a relatively small DIY home design project that can have a big impact.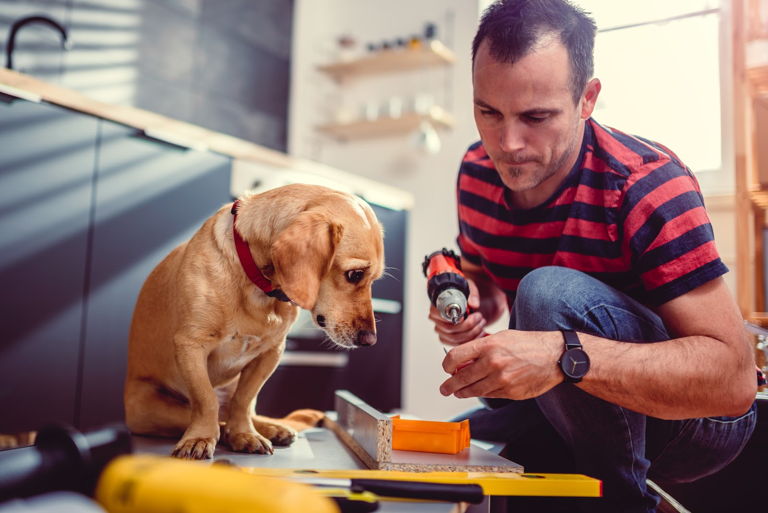 2. Plan a Pinterest-Worthy DIY Kitchen Cabinet Makeover
For many, the kitchen is at the top of the list when it comes to DIY interior design projects. Whether you're an avid home chef in need of a fresh, inspiring space or you just want that designer kitchen magazine look for your home, giving your kitchen cabinets a 'makeover' is a highly effective way to satisfy your DIY interior design project craving.
There are a couple of ways to achieve a Pinterest-inspired look for your kitchen cabinets — the first is a simple repaint. Switching up your cabinetry colours to hit those pinboard trends can be as easy as introducing new colours into the mix. Think tonal blues, greys, neutrals, and even blacks and greens. For a chic retro look, think light, airy pastels. If you're leaning toward a more millennial mood, a barely-there rosy pink works well. Hungry for modern, minimal style in your kitchen? Choose a clean, minimalist white for your kitchen cabinetry and let your sleek appliances and smart technology take centre stage. Whatever colour palette you choose, remember to change your cabinets' hardware and handles to complement your daring DIY handiwork!
Another home DIY project that packs a major interior design punch in your kitchen is — are you ready? — removing your upper cabinets. Admittedly, this one is not always for the faint of heart (or hoarder of dishware). But, replacing your upper cabinets with floating neutral-coloured or natural wood shelving improves your style footprint by creating more space to move and letting light flow freely. Floating uppers are the modern minimalist's dream. They allow easy access to the items that matter most and empower you to accessorize mindfully and avoid pesky clutter.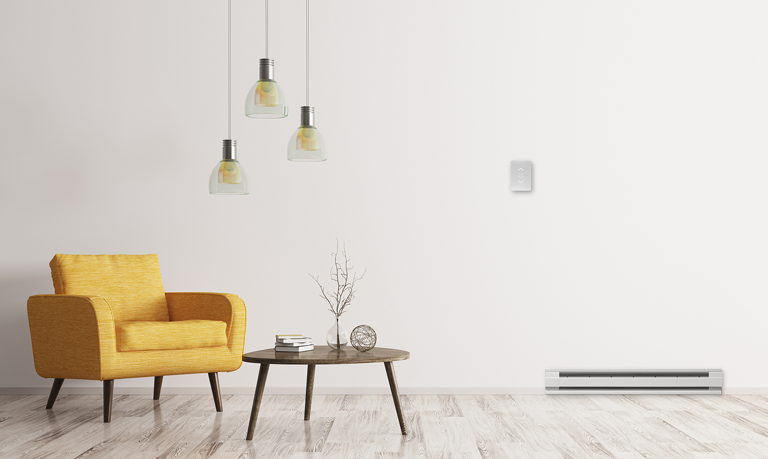 3. Say Goodbye to 'Boring Beige', Switch to Sleek Smart Thermostats
Investing your time, energy, and resources in refreshing your home means adding real value to your property now and for your future. Integrating smart home tech into your space is an easy, affordable, interior design-friendly way to upgrade your home. Switching out inefficient, 'blah' electric heating thermostats for modern smart thermostats is a do-it-yourself home project that can have a majorly positive impact on your home's style (and environmental) footprint. Living a more comfortable, connected, and effortlessly energy-efficient life at home is a bonus!
Are you ready to say goodbye to 'boring beige'?
Mysa Smart Thermostats are sleek, subtle, and designed to help you regain design mastery of your walls. The perfect marriage of form and function, Mysa's minimalist form enhances your home's interior design footprint while helping you reduce your electricity bill by using energy more efficiently.
And it's not just about looking great while saving money — Mysa plays very well with others. Mysa is compatible with all major smart home assistants like Google Assistant, Siri, Samsung SmartThings, and Alexa. In fact, Mysa is the only smart thermostat for electric heating that works with Apple HomeKit. With Mysa, it's easier than ever to create the DIY interior design space of your dreams at home while keeping your life efficient, convenient, and connected.
Switching to a sleek, modern, premium look and feel thermostat is an easy DIY home project that can boost your style in a big way. Pro Tip — complete your easy smart home tech upgrade with smart light switches, dimmers, and wifi-powered smart outlets. Paying attention to these small but important design-focused details can help you complete your home's fresh new look and live a more energy-efficient life. Gone are the days of being held 'design hostage' by old-fashioned fixtures — it's 2020, after all. It's ok to have nice things.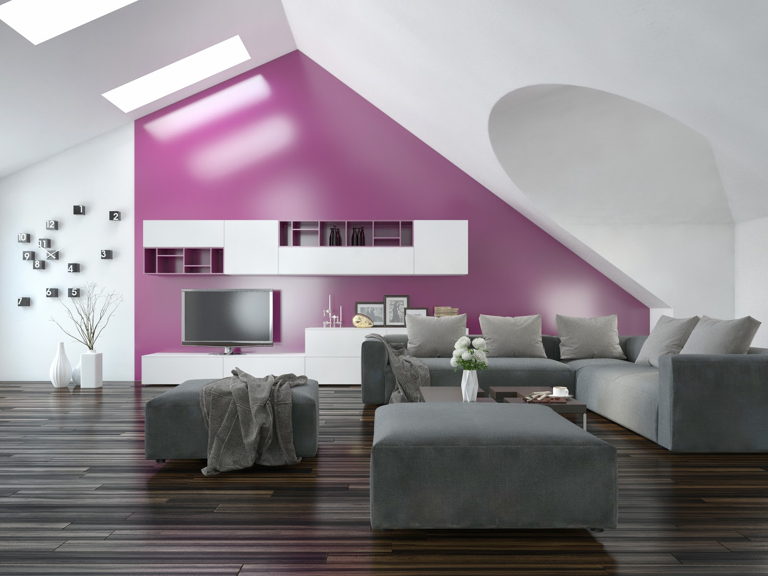 4. Create a DIY Accent Wall in Your Bathroom with Unique Wallpaper
Bathrooms tend to come with a lot of 'shoulds' in the interior design world. Yes, they should always be functional, but they should also be warm, inviting, and unique. Whether it's your ensuite haven of self-care and 'me time' or that quirky powder room on your main floor, bathrooms should never be exempt from your DIY home project planning.
One of the easiest and most impactful ways to boost your bathroom style game is by using a uniquely-patterned or textured wallpaper to create a 'wow factor' accent wall. Yes, wallpaper is 'cool' again, and there's a pattern out there for everyone! Size matters when it comes to choosing your accent wall. A large expanse gives you ample surface area on which to showcase a luscious, oversized pattern. But, a small, hidden nook or the behind-the-vanity area can double down on the visual impact of a striking wallpaper selection.
It's always important to consider your home's overall esthetic when DIY-ing your bathroom's interior design. However, these usually private spaces also afford the opportunity to create special, contrast-driven treatments that really stand out. What's hot right now? How about an oversized jungle motif to make you feel like you're in your own private oasis? A vibrant, textured animal theme or Art Deco-inspired geometric pattern can create big drama in small spaces. Meanwhile, a whimsical, vintage-feeling nautical pattern or abstract line drawing motifs can keep things light and engaging.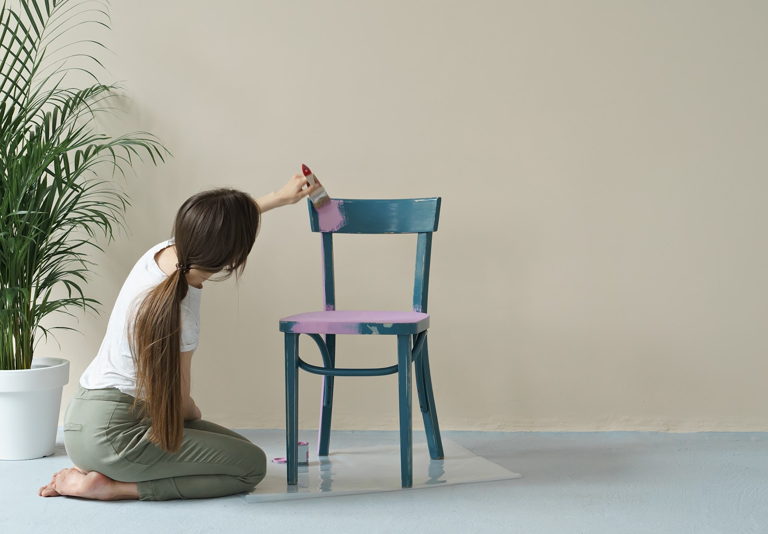 5. DIY Home Project Like a Boss with Furniture Refinishing
You've been scouring online marketplaces for that perfect mid-century modern cabinet to complete your record-listening nook. Maybe you've charted a thrifty course through local (or not so local) garage and estate sales? Are you always in search of that swoon-worthy chair or show-stopping coffee table to bring home for a new lease on life? Whatever the treasure you find and fall in love with, refinishing vintage or second-hand furniture is a hot ticket to cool DIY interior design style for your home.
Protective gloves and a mask for airborne sanding particles and solvent fumes.
Paint or varnish remover to lift the original finish (or previous DIY finishes!).
Sandpaper of varying grits or a small power sander to smooth things out.
Natural wax or oil finish and lots of soft clothes to pamper your refinished masterpiece.
DIY Pro tip — always work in a well-ventilated space if you're using chemicals!
When refinishing your piece, there are options. Consider replicating a vintage-looking finish to honour the piece's design history. Or maybe go with a modern finish to highlight the contrast of now vs. then. There are lots of great online resources available to help guide you through your DIY vintage wooden furniture restoration. You're not alone, Design Boss!
If you're restoring an upholstered piece, your DIY reupholstery arsenal should include:
A seam ripper for delicate removal work.
Needle-nose pliers or a claw tool to remove staples or finishing nails.
A sturdy pair of scissors or shears.
New padding or batting (consider using post-consumer recycled material).
A staple gun or a small mallet and finishing nails.
Anything from your wooden furniture tool kit for refreshing wooden arms, legs, etc.
DIY Pro Tip — wear a mask or work in a ventilated area when removing original fabric!
When it comes to fabric, the world is your oyster! If you'd like to keep things authentic, vintage fabric is an option for the discerning DIY-er. If you have trouble sourcing true vintage fabric, vintage reproduction fabric is widely available as a great design save. Don't forget, there are lots of helpful how-to resources out there to guide you on your DIY reupholstery/restoration journey!
At the end of the day, do-it-yourself home projects should improve your life at home. They should let your style shine and add more comfort and contentment to your personal spaces. Planning and completing DIY home design projects not only leave your home looking fresh and stylish, but they can also help us feel inspired and accomplished! Are you a 'more is more', all-the-bells-and-whistles DIY designer? Or are you a sleek, modern, minimalist at home and heart? We want to know! Tell us about your most recent DIY interior design project in the comments below.