Using a thermostat app to control your home heating and air conditioning has many benefits. If you've wondered 'can I use my phone as a thermostat?', the answer is yes! In fact, it's an easy way to save on energy costs, without having to sacrifice comfort. 
Getting phone thermostat control starts with finding a smart temperature controller to replace your basic thermostat. An important thing to keep in mind when shopping for a smart thermostat is compatibility. The smart home thermostat that you choose will have an associated thermostat app, where you can create heating and cooling schedules, analyze energy use, and much more. 
With an app in hand, you can take advantage of all the smart features to live more comfortably and save. But, first, let's learn how to control heating and AC from your phone.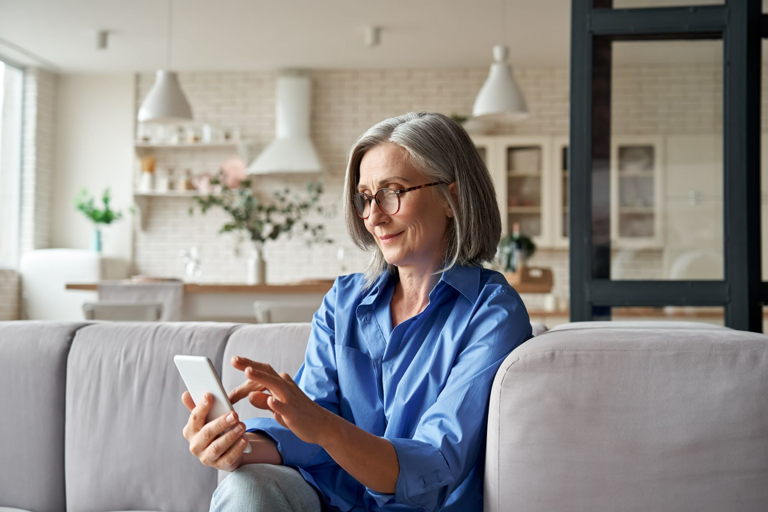 How Do I Control My Thermostat From My Phone? 
To get thermostat app control on your phone, you'll have to start with a home upgrade. Swapping out your old dial or programmable thermostat for a smart one is easy. Next, download your smart thermostat brands' app and connect to your new thermostat via WiFi. 
What will you be able to control? With a few taps in the app, you can create an array of controlled heating and cooling setups, monitor multiple rooms, and even multiple homes. It's simple to control your WiFi thermostat remotely from anywhere!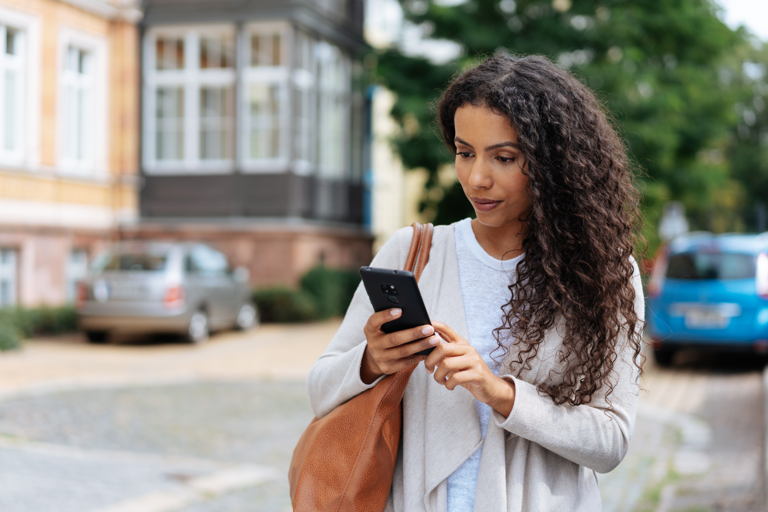 What is a Smart Thermostat? 
Connected via WiFi, a smart thermostat gives you the power to control your home's HVAC system with a smartphone, tablet, or smart speaker. Once installed, you can change the settings remotely using a phone thermostat app. 
With remote thermostat control, you can change and monitor settings wherever you have a wireless connection in a few quick taps. It's easy-to-use smart technology. Plus, smart programmable thermostats come with tons of app features that help you save energy like Scheduling, Geofencing, and Energy Insights. 
In comparison, a basic programmable thermostat lets you input settings and create a schedule on the actual thermostat. Generally, these thermostats can be difficult to use and many people who own them don't even program them. 
12 Smart Thermostat App Features That Give you Better Control & Help you Save
How will you use your smart thermostat app? Some users may wish to focus on energy consumption, using the app to track their savings. Or maybe you're more concerned with creating the perfect smart heating setup for more convenience and better comfort.
There are many app features that deliver different benefits. Let's take a look.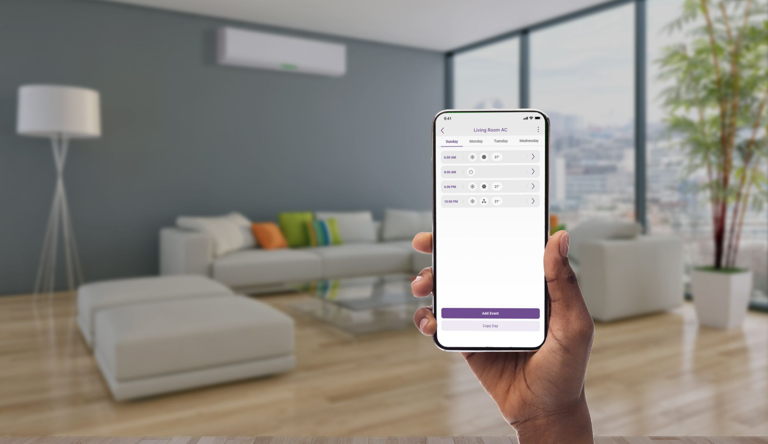 1) Temperature Scheduling 
Scheduling is a thermostat app's bread and butter. In a few quick taps you can set custom heating and cooling schedules that perfectly suit your lifestyle. With a smart thermostat in every room, you can set schedules for each area of your home individually. 
Thermostat schedules can be set based on 15 minute intervals for every day of the week. You can schedule your thermostat to turn down when you leave for work and turn up before you're home, so it's the perfect temperature when you arrive. On the weekends, your morning routine can be scheduled to start later if you want to sleep in. Plus, you can set an overnight schedule for a better night's sleep (and easy savings)!
If needed, making changes to your schedule is simple. It can be done in the app at any time, from anywhere. If something unexpected happens, you can also override your schedule in the app to make quick thermostat adjustments.
Some thermostat apps even allow you to save your personalized schedules, so they're alway on hand. This helps you easily switch to and from your winter or summer schedule based on the weather. 
Best of all, no more need to touch that thermostat dial!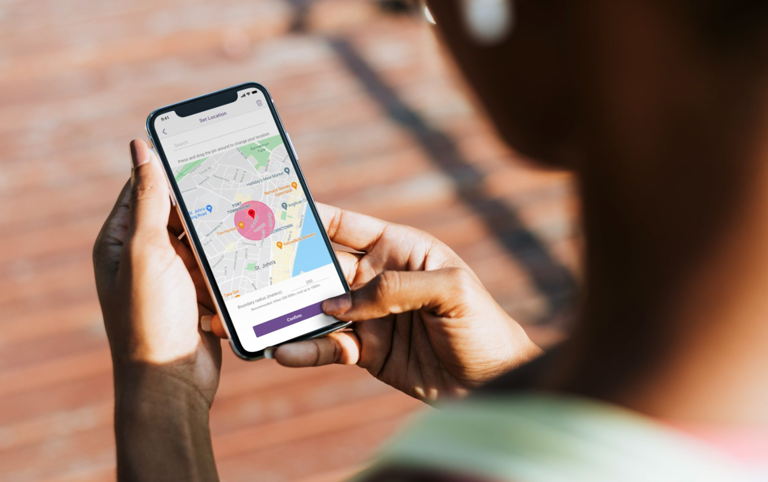 2) Geofencing 
Have you heard the term and wondered 'what is Geofencing'? It sounds high-tech, but Geofencing simply means programming your smart thermostat to make automatic changes based on how close you are to home. 
How does Geofencing work? It works by setting a boundary, or 'fence', around your home in a thermostat app and telling your thermostat what to do when you enter or leave the area. If you're inside the geofence, your smart thermostat adjusts to your at-home preferences. If you're outside the boundary, your app controlled thermostat will know and automatically change to away settings to help you save energy. 
Geofencing is especially great for people who have unpredictable schedules. Your smart thermostat app will do all the work for you, so you get to save on your electric bill without even thinking about it. Plus, no more worries about heating or cooling an empty home!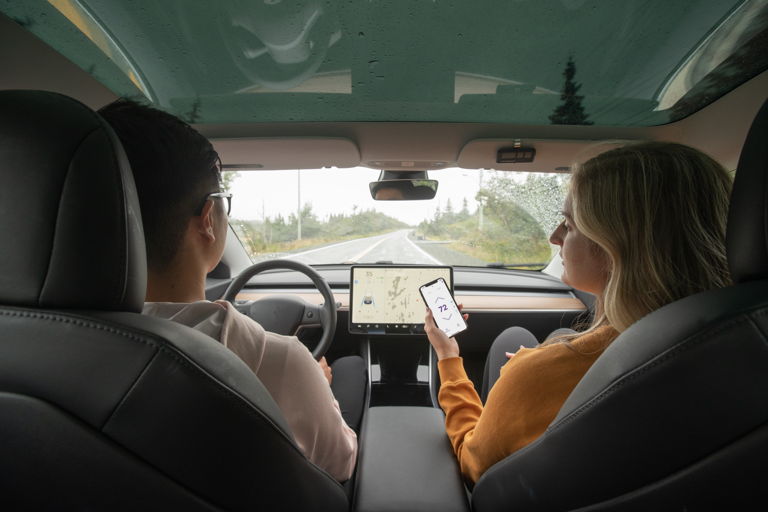 3) Remote Control/Access
You can fly to the farthest reaches of the world and still stay connected to your home with a thermostat app. With remote control/access you can monitor and adjust your thermostat temperature from anywhere (as long as you have WiFi connection). 
This way, you always have control and peace of mind. No more need to worry about forgetting to turn down your thermostat.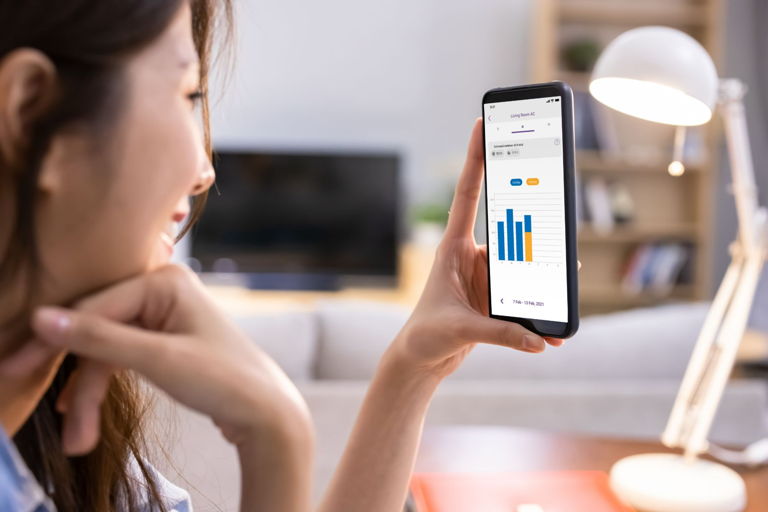 4) Energy Charting/Insights
Want to know exactly how much energy your home's HVAC system is using? Or identify which areas of your home use the most energy and at what time of the day? Maybe you just want to track your investment in smart thermostats and see how much energy you're saving in kWh and dollars. 
All of this information and more is available in smart thermostat apps with an Energy Charting or Energy Insights feature. Get real-time data that's easy to read, based on monthly, weekly, or daily views. 
As a smart homeowner, you can use this info to make changes to your thermostat app features or your home to save even more on your energy bill. For example, if a certain room is always using a lot more energy than others, it could be a sign to upgrade insulation or window sealing. 
5) Thermostat Zoning 
Creating multiple thermostat zones can greatly increase your control. With a thermostat app, you can control each zone individually or group them together. For example, you can have an entertaining zone that controls your kitchen, dining room, and powder room. Or a morning routine zone that controls your bedroom and ensuite. 
Smart multi zone thermostat control helps you save, since you can choose which areas to control instead of heating or cooling your entire home. 
6) Vacation Mode  
Whether it's a weekend getaway or an extended escape, your thermostat stays on duty while you're away. Switching your smart thermostat to Vacation Mode overrides your regular schedule, which means energy savings. And no worries if you forgot to make the change before setting off — you can always do the switch remotely.
7) Shared Access
Why limit thermostat app control to one phone or tablet? Or one person? With a Shared Access feature, you can allow others in your home to control smart thermostat app settings. While multiple users can log in with the same credentials, creating unique accounts for each user is a more secure way to go.
This is a great feature for families, so everyone can have access on their phone. This way, everyone is always comfortable and can monitor energy use and savings. 
8) Lockout Mode
With Lockout Mode, you decide who can change the temperature in your home. This feature lets you lock the faceplate of your smart thermostats, so changes can only be made in the app. This can be a great way to control costs if you own rental properties, or to prevent the kids from cranking the heat on blast.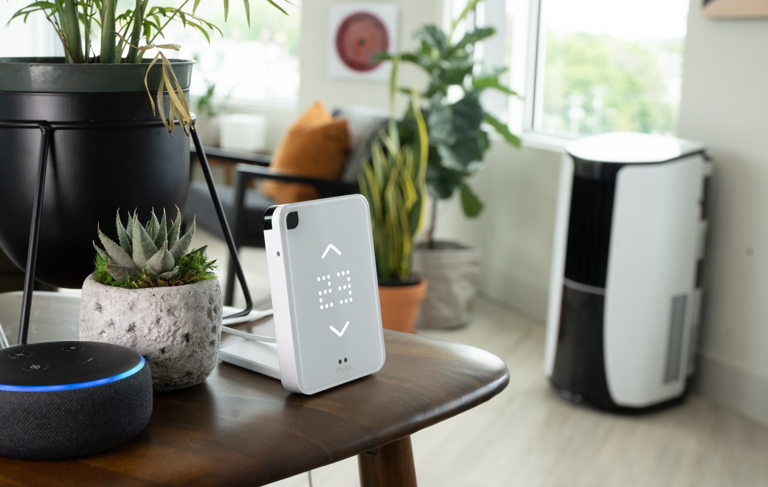 9) Smart Home Integration 
Do you ask Siri? Are you looking for a Google Home thermostat? Or maybe you use Amazon Echo and want an Alexa-compatible thermostat. No matter your smart home system, there's a smart thermostat that can integrate with your smart home hubs. Just make sure to choose a smart upgrade that's compatible with your preferred smart assistant. 
For even more convenience, you can also add your smart thermostat to your smart home themes. So, during your next movie night, your smart assistant can simultaneously turn down the lights, adjust room temperature, and turn on your TV. Now that's smart living! 
10) Humidity Monitoring
A smart thermostat not only measures a room's temperature, but also a room's humidity. If humidity levels go above or below normal, a thermostat app will alert you, so you can change settings. Proper humidity levels are good for your health and your home.  
11) Eco Mode
If you've been looking for a smart energy-saving thermostat, certain thermostat apps like Mysa have a feature for that too. Available for Mysa's baseboard heater thermostat, Eco Mode lowers the thermostat temperature slightly (by 0.5 degrees) after a room has reached the temperature you set. This helps save even more energy than you had even planned.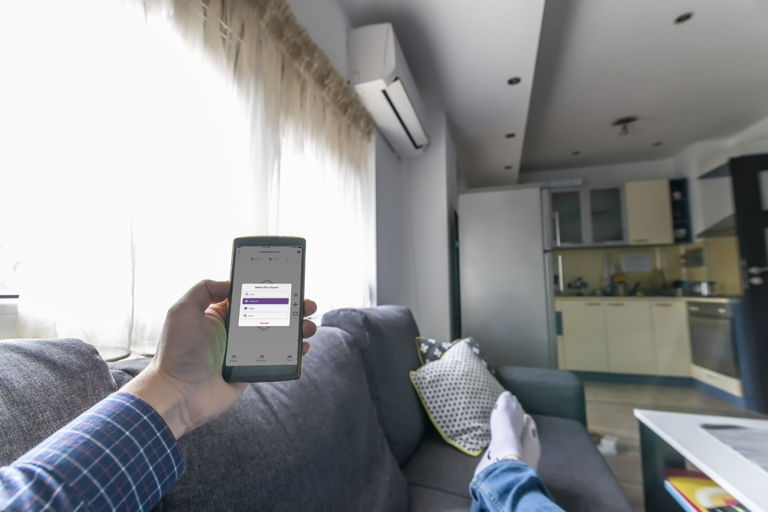 12) AC Thermostat Control 
If you have ductless electric air conditioning, you may have wondered about AC temperature control. While mini split heat pumps and window or portable air conditioners do not have a typical thermostat wired into a wall, you can have smart air conditioner control by using a smart AC thermostat. Thermostatic Control, Climate Plus, Temperature Plus, etc. there are many different names for this feature. Essentially, it helps smart AC controllers measure and optimize room temperature. This way, you can see and control temperature in the app, just like you would any other thermostat.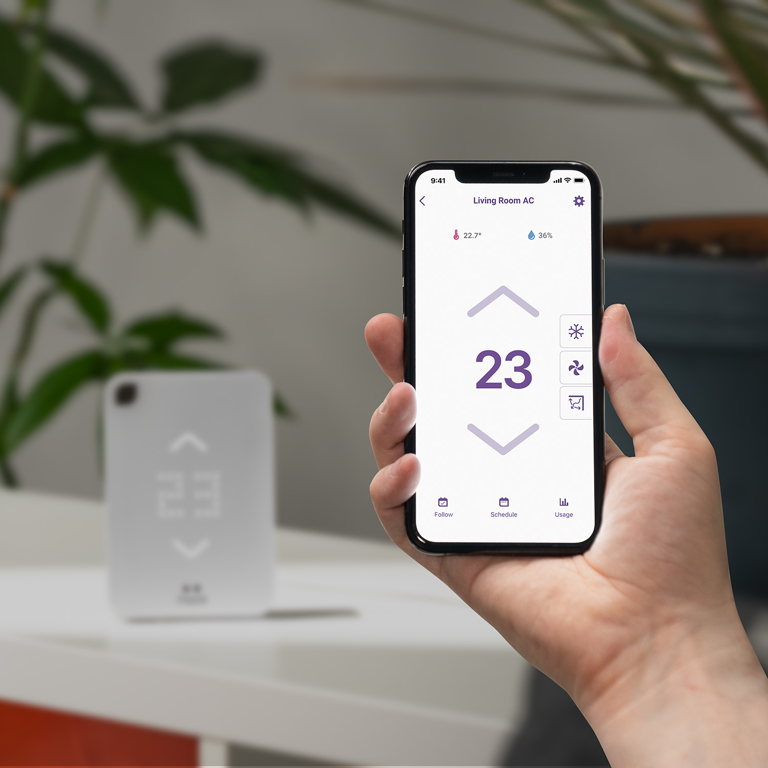 What is the Best Thermostat App? 
To answer this, it's important to first know what type of thermostat is compatible with your home's HVAC system (how you heat and cool your home). You may need a smart low voltage thermostat for a central HVAC system, a line/high voltage thermostat for electric heating, or a smart controller for a ductless mini split or AC systems.  
Central HVAC systems generally have one heating or cooling source — ex. hot water boilers or gas furnaces — and use low voltage thermostats. If you only have 1-2 thermostats in your home, you likely have a central HVAC system. Nest and Ecobee are popular low voltage thermostat brands for central heating.  
Electric HVAC systems are powered entirely by electricity and usually have multiple thermostats, as many as one per room. These systems are controlled by high/line voltage thermostats. Baseboard heaters, fan-forced heaters, in-ceiling radiant heat, and electric in-floor heating are all examples of electric HVAC systems. If you have multiple thermostats throughout your home controlling your electric HVAC systems, you likely have high voltage thermostats.
Ductless mini split heat pumps, window AC units, and portable ACs are also electric systems, but are controlled by IR signals. So, instead of a traditional thermostat wired into a wall, these systems are controlled by a handheld remote or a smart controller.  
Mysa is a great option for electric heating or cooling, making line voltage smart thermostats for baseboard and electric in-floor heating, as well as smart controllers for ductless mini split heat pumps and AC units.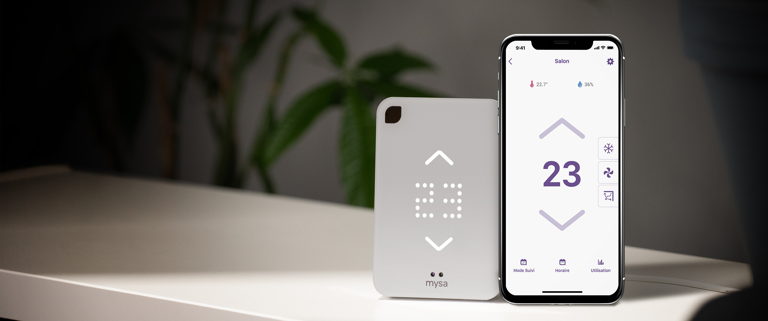 Is a Smart Thermostat Worth it? 
Yes, a smart thermostat is worth it — the convenience of being able to control your thermostat remotely alone may prove its worthiness. Hate having to get out of bed on cold mornings to change your thermostat? With a smart thermostat app, you can stay cozy in bed and make changes on your phone. Or better yet, schedule the perfect morning temperature, so your thermostat adjusts for you automatically. 
Chances are you've been out and wondered if you remembered to turn the heat down. That's not a problem if the controls of your IoT thermostat are right there on your smartphone. Smart thermostats also give you peace of mind that comes with always being in control of your home heating and cooling. 
Also, don't forget about the financial savings that come with having a thermostat you can control from your phone. Homeowners who use the energy efficient smart thermostat features can save up to 26% on their monthly electric bill. 
How to Make My Thermostat Smart? 
There's not much to it: Just swap out your old thermostat for a new smart one. But, keep compatibility in mind when choosing a smart upgrade. Getting a new thermostat that's compatible with your old one and your HVAC system is important. We have a complete guide that details how to install a smart thermostat for any HVAC system. 
Once installed, you're ready to connect your thermostat app to your new smart home thermostat via WiFi. Then you'll be able to use your phone as a thermostat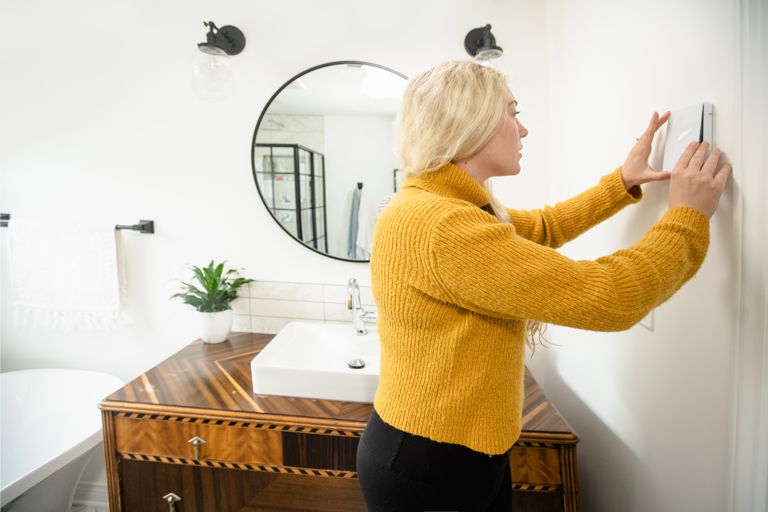 Can You Install a Smart Thermostat Yourself? 
The answer to this can depend. While it is possible to install a smart thermostat yourself, you'll have to consider your comfort level with electric wiring. Also, consider your HVAC system since low voltage thermostats tend to be easier to work with than high voltage ones. 
If you have zero experience with electrical wiring, calling an electrician might be a wise choice. But if you can handle the basics, you probably have the skills to install a smart thermostat. Important Note: Remember to take proper safety precautions and to follow local electrical codes and regulations. Please have installation performed by a qualified HVAC professional where required by state/provincial regulations.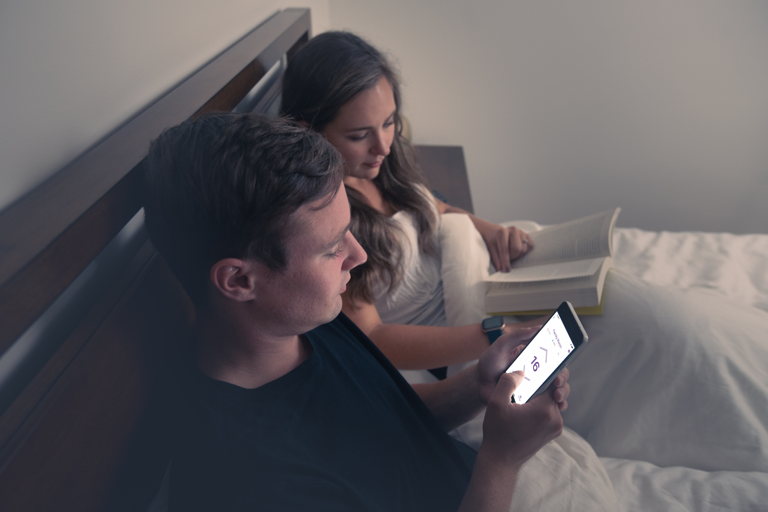 How to Connect a Smart Thermostat? 
Connecting and programming your new smart thermostat is simple. To start, you connect to WiFi and then pair your phone to your new thermostat. Next, test to make sure everything works properly and then program your preferred settings. Most smart thermostat apps will walk you through this process as you go. 
Not ready to dive into the details? Some thermostat apps have pre-made schedules that you can try or quizzes to learn more about your needs. Don't be shy about testing some thermostat app features right away though. Here are some easy things to get started with: 
Creating custom smart home heating and/or cooling schedules.

Setting up Energy Charting to track the energy use of individual thermostats.

And integrating your smart thermostat with your smart home voice assistant.
Remote Thermostat Control — At Your Fingertips 
So, is there an app for a thermostat? How to control AC temperature from your phone? A thermostat app is the answer. All it takes is a simple home upgrade — swapping your basic dial or programmable thermostats for smart devices. 
With all the thermostat app features at your fingertips, you can live more comfortably, while saving. No more shocking electric bills when you're always in control. 
To learn more about smart home solutions that help you save, sign up to Mysa's email list.